Hi and Welcome to the Carnival of Homeschooling at Notes from a Homeschooled Mom. I am have homeschooled for nearly a decade now and am near the end of the journey with my children. You may have noticed I have recently changed my blog name. It was a simple change of one word: Homeschooling to Homeschooled. The reason for the change is that I now know that I wasn't just teaching my kids, they were teaching me all along. Homeschooling has made me braver, stronger, more opinionated, and less afraid of expressing those opinions. Homeschooling has also taught me to face life standing up and not to let it mow you down.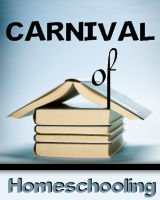 This is one of those weeks when I would have refused to get out of bed ten years ago. I have experienced a loss of a precious niece, and will be heading home tomorrow for a few days to be with family. But like I said, homeschooling has taught me to keep standing and keep going, and in that vein, I present this Carnival in the memory of my niece Candace Barnes who was forced to homeschool the last few years of her education because she was unable to go to school a great deal of the time. While I am sorry for her death, I am grateful for her life and the short lives of other family members who had been struck with the same affliction.
I want to thank you all for indulging me.
And now I present you with this week's Carnival of homeschooling.
HOMESCHOOL NEWS:
Beverly Hernandez at the
About.com Homeschooling Blog
presents
Vote Now! The 2012 Homeschooling Readers' Choice Awards
, saying The finalists have been announced and the voting is in full swing. The voting period runs from February 22 through March 21 with winners announced March 30. There are quite a few close races…support your favorites!
HOMSCHOOL MUSINGS AND INSIGHT
Sabrina at
7 Sisters
presents
Character Studies: Corrie ten Boom
saying, In addition to well rounded academics and extra-curriculars, homeschooling for Christian parents also means exposing our children to the kind of information, people and experiences that will equip them to become fully-devoted followers of Jesus Christ. Character studies are a great tool for bringing many of these goals together in our homeschools.
Lisa a
Homeschool Circus
presents
Preparing for High School!
saying, I only wanted to *try* preschool and Kindergarten. I never dreamed homeschooling would become a learning lifestyle!
Chris at
Home School vs Public School
presents
Grandparents and Your Child
saying, Empower your children with the knowledge and love of grand parents!
Liz at
Homeschooling in Buffalo
presents
Outsourcing My Teaching Weaknesses
in which she discusses the occasions when she gets outside help with homeschooling.
Ranga at
Information Blog
presents
Homeschooling for Children with a disability
Mrs. White presents "
The Early Years of Homeschoolin
g" posted at "
The Legacy of Home
."
Christine presents
The Challenge for Homeschool Moms with Teen Boys
posted at
The Thinking Mother
in which she discusses trying to give her teen boy room to grow while living the close lifestyle of homeschooling.
Henry Cate presents
Another Benefit of Homeschooling
at
Why Homeschool.
Henry reports that his daughters love to babysit while they study.
HOMESCHOOL TOOLS:
Sarah Small presents
Putting Pinterest to Use: Newspaper Blackout Poem
s posted at
SmallWorld
.
Dr. G at
Mom Fitness
presents Post "
Lessons on Health and Nutrition
" saying, Teaching young children about good health and nutrition can affect them for the rest of their lives... start them out right!!
Victoria McCracken at
Teaching Mommy
presents
Netflix in the Homeschool
Trigger Memory at
PJs All Day
presents
Using Email and Boomerang for School
giving tips for using email and Boomerang (delayed email delivery) in conjunction with schooling.
Heather Laurie presents
Lapbooking with Special Needs Kids
posted at
Special Needs Homeschooling
. What changes would help lapbooking with a special needs child? This is the first of a whole week long series on special needs lapbooking!
HOMESCHOOL ADVENTURES
Dana Hanley at
Roscommon Acres
presents
In which my children inadvertently track a mountain lion. Maybe.
(wow!)
Lisa Nehring at
Golden Grasses
presents
Thinking Summer
saying We're getting camps, events and travel plans for summer on our calendar. I'm putting together a "bucket list" for summer for my younger kids!
HOMESCHOOL EXTRAS
Susan Kilbride, author of "
Science Unit Studies for Homeschoolers and Teachers
," has just launched "Our America," a new series of chapter books designed to help homeschoolers & other students learn American History. The first book is called "
The Pilgrim Adventure
s"
Nancy Kelly is hosting a
A Book Giveaway for Spring
! Go check it out.
Annie Kate at
Tea Time with Annie Kate
presents
An Attack on Freedom of Religion and Freedom of Speech--Please Pray
Olivia Marie presents
20 Best Sites for Helpful Dissertation Tips
posted at
onlinephdprogram.org
stating: For doctorate students, writing your dissertation can be extremely overwhelming and seem endless.To help alleviate some of the stress, this list of sites offers great tools for finding advice and tips on completing your dissertation, including blogs, articles, and other online resources. (There may very well be some homeschoolers who are ready for this).
Thank you for reading. Enjoy my
FREE HOME EDUCATION WEBSITE