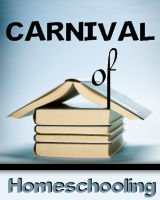 Welcome to the August 17, 2010 edition of carnival of homeschooling. Let's start with a little housekeeping. Please, Please, Please, promote the carnival on your blog. If everyone participates, then everyone will benefit even more. Failure to promote the carnival may get you excluded from future carnivals. (I know I wasn't afraid of using the delete button.) It wouldn't hurt to use the graphic either.. it is here:
Now on to our back 2 Home... school edition... hope you enjoy the personal photos I have enclosed.
My family
just completed our first week of back to home... school for the 2010-2011 school year. Today is actually the kids' first day back to their homeschool program which meets once a week on Tuesdays, giving me time to work on this carnival. When back to school time starts, it is inevitable that a neighbor will corner me on the subject. Today, my neighbor caught me outside and our conversation immediately went to schooling. He was very excited about a new charter school in our neighborhood and thought I should send me kids to it. Read more about it as
Andrea
(me) presents
charter schools versus homeschooling
posted at
Notes From a Homeschooling Mom
Janine
at Why Homeschool certainly makes the most of back to school time, even though she can't avoid it altogether. Janine presents
The First day of School
at
Why Homeschool.
The beginning of the school year also has
Wendy
at
A Divine Calling
musing a bit. Enjoy her post
Why we homeschool
as she shares reflections on her families homeschooling journey and on the many " reasons why we choose to homeschool our children".
Not all of use are done with summer yet. Read more about it as
Margaret
at
Two Kid Schoolhouse
presents
Why camp counts in my homeschool
, saying "Things my kids are learning at camps this summer and why I count them as "school."
My kids and I on a trip to California... homeschool travel is cool!
Jeanne
may never be ready to start the school year as she easily combines the school and summer seasons while participating in
Family Travel, Homeschool, Education & Global Students - Soul Travelers 3
posted at
soultravelers3
, saying, "We love combining travel and homeschooling! We have been traveling the world as a family non-stop since 2006 on just 23 dollars a day per person and are monolinguals raising a very fluent trilingual and triliterate. Here is our view on why homeschool & travel makes for a well prepared global citizen of the 21st century."
For those of use who don't have wanderlust, or just can't make it work, don't forget to take time to contemplate the night sky with your kids like
Cristina Payne
who presents
Getting Close with Space
posted at
Home Spun Juggling
, saying, "Spending one on one time while watching for meteors"
During the day you can contemplate nature like
Pamela Jorrick
who presents
A Frog A Day...
posted at
Blah, Blah, Blog
.
It's no wonder
Mobius
can present
Home Schooling Children Have More Joy
posted at
Home Schooling Resources
.
Not only do homeschooling children have more joy, but they get to slow down and observe the world around Them. You can enjoy
Sebastian's
observations of
Post Rockwell's Realism
at
Percival Blakeney Academy
.
Homeschooling allows so much flexibility in every aspect of learning.
ChristineMM
displays this in
Places We Learn (aka Do Homeschooling) Under Our Own Roof
posted at
The Thinking Mother
, saying, "ChristineMM of The Thinking Mother shares photos of places her kids learn in their home since there is no actual "school room"."
My kids enjoying Atlanta Botanical Garden a few years ago
There was a time when such a conversation with my neighbor would really rattle me, but not anymore. Us homeschoolers are used to criticism, such as the type
Alasandra
addresses in
The Great Flip-Flop
posted at
Alasandra's Homeschool Blog Awards
.
If you need a bit more reassurance, read this post from
~Kris~
who presents
Top Ten Homeschooling Words of Wisdom
posted at
Weird, Unsocialized Homeschoolers
.
Library visit
As you begin a new school year, be sure to go beyond academics like
Jennifer Lavender
who presents
School Motto
posted at
Princess Momma
as she lays a spiritual foundation for her homeschool.
Once that is done, you can explore goals as
Lynn
presents
More Goals
posted at
Eclectic Education
.
Classes may be all taught by mom, or like
Carol J. Alexander
who presents
Homeschool Writing Classes
posted at
Everything Home...with Carol
, co-ops and outside classes may be the order of the day.
Also...
Denise
presents
FREE Homeschool Blogging Correspondence Course
posted at
Blogging 2 Learn
, saying, "If you live too far away to join our homeschool co-op, your student can still take my blogging class..."
For my family, classics are a huge part of the homeschooling curriculum. Take a tip from
The Homeschool Librarian
who presents
Little House on the Prairie: another look
posted at
The Homeschool Librarian
.
Denise
presents
Math Clubs, Math Circles, and the Richmond Math Salon
posted at
Let's Play Math!
, saying, "Give your student a positive experience with math by starting a math club. Here are a wealth of tips and sample activities."
Let's not forget those subjects that while they are not exactly about homeschooling, they certainly affect it.
Linda Dobson
presents
Need Money? Become a School Turn-Around Expert: No Experience Necessary
posted at
PARENT AT THE HELM.
Finally,
Jason Koeppe - IntelliCorp
presents
Home Playground Safety Checklist
posted at
InTouch & Informed Blog
, saying, "Nothing soothes a parent more than the sweet sound of children swinging, sliding, giggling, and having fun in the backyard. Use this simple playground safety checklist to help make sure your home playground is a safe place to play. Each year, more than 200,000 children go to U.S. hospital emergency rooms with injuries associated with playground equipment." So be careful out there.
That concludes this edition. If you notice an errors or unfair exclusions, please email me at ahermitt@gmail.com. To be included in the next carnival, submit your blog article to
carnival of homeschooling
using our handy, dandy
carnival submission form
. Past posts and future hosts can be found on our
blog carnival index page
.
Technorati tags:
carnival of homeschooling
,
blog carnival
.